Abandoned Carnival Sits Vacant In Detroit
News link: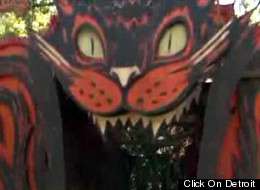 At HuffPost Travel, we've talked at length about America's urban decay, particularly through moving photos of the neglected Rust Belt in locales like Pittsburgh's Hill District and old coal mining towns. We'vetaken a look at Detroit before, but now have a new site to explore: its abandoned carnival.
The park, which sits on Woodward Avenue and 8 Mile Road, was, until 2010, used annually on Halloween, according to ClickOnDetroit.com. It was the home of Theatre Bizarre, which says on its website:
In the shadow of the now dormant Michigan State Fairgrounds it stands in a largely abandoned neighborhood – surrounded by dozens of homes left vacant and decaying on the northernmost edge of Detroit... Shut down by the city of Detroit in 2010, Theatre Bizarre lives on.